The Vow of the Disciple Boosting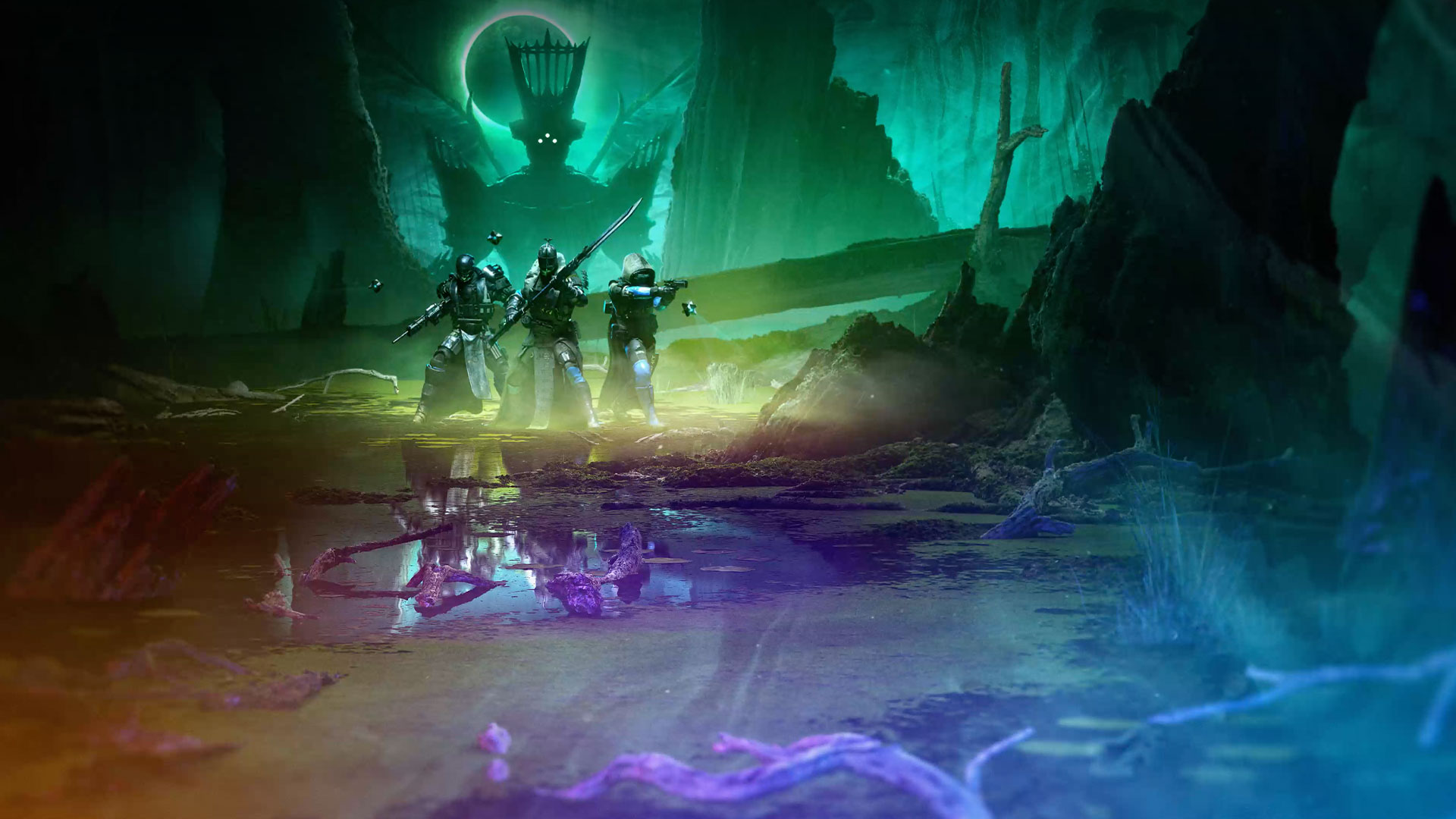 What You Will Get & What Does It Do the Vow of the Disciple account recovery?
You have picked the number of completions for the NEW Witch Queen Raid the Vow of the Disciple game mode. The pyramid inside Savathun's throne world has been reawakened; journey inside and confront a horrible evil that has been imprisoned beneath.
There has been an increasing likelihood that the rumors of The Envoy of the Witness being discovered behind darkness and the veil are genuine, with many believing that the Entity behind the darkness, known as The Witness, will appear shortly.
Start and Completion Time the Vow of the Disciple account boost and boosting
After making your order, it will begin processing within about 12 hours after the purchase; the completion time may vary from order to order due to the fact that you may have a bigger or lower amount. As a result, completion times might be either quicker or longer.
Prior to placing an order, the following requirements must be met:
Meet the bare minimal lighting requirements to get entry to the raid.
The Witch Queen add-on content
How Does It Work the Vow of the Disciple account carry ?
1. Following the submission of your purchase, your order will be allocated to a professional booster.
2. After that, you will be contacted through SMS or email to schedule a time for your boost to begin.
3. If you choose the Self-Play option, your booster will arrange the service around your availability.
4. There will be no needless waiting or chit-chat with managers or administrators unless you have a query.
5. Once the order has been completed, you will be alerted via SMS or email once more.
6. Provide us with your comments by submitting a review and you will get a discount of 10% off your next purchase.
During the boosting, we do not utilize any applications or hacks of any kind. All services are performed by hand with the assistance of hired boosters. Please feel free to ask any queries you may have in our chat room. Whenever you need assistance, our live chat support will always find you the finest solution at the most reasonable price for your boost request.
Because of the upcoming release of The Witch Queen, a big chunk of the Destiny 2 audience will be focusing their efforts on completing The Vow of the Disciple on the day it is made available for purchase. The raid of any expansion is often regarded as the culmination of the grind. This task asks players to push themselves to their limits in order to raise their Power level to the highest possible level ahead of the game's release. It also requires that a group of six Guardians communicate properly while undertaking one of the most difficult challenges accessible.
As such, players will need to be prepared. That's why this article will cover everything you need to know about The Witch Queen's raid, how to prepare for it, and when it will be released in your timezone.
The Witch Queen raid's release date and start time have been announced. The Vow of the Disciple will be made available to the public on March 5 at 6 p.m. Universal Time. Check out the chart below to find out what time it is in your local time zone at the moment.
REGION
LOCAL TIME
UTC
Australia
5 a.m. (AEDT) March 6, 2022
6 p.m. UTC, March 5, 2022
Brazil
3 p.m. (BRT), March 5, 2022
6 p.m. UTC, March 5, 2022
China
2 a.m. (CST), March 6, 2022
6 p.m. UTC, March 5, 2022
Columbia
1 p.m. (COT), March 5, 2022
6 p.m. UTC, March 5, 2022
Egypt
8 p.m. (EET), March 5 2022
6 p.m. UTC, March 5, 2022
France
7 p.m. (CET), March 5, 2022
6 p.m. UTC, March 5, 2022
Japan
3 a.m. (JST), March 6, 2022
6 p.m. UTC, March 5, 2022
Mexico
Midnight (CST), March 5, 2022
6 p.m. UTC, March 5, 2022
New Zealand
7 a.m. (NZDT), March 6, 2022
6 p.m. UTC, March 5, 2022
Poland
Midnight (CET), March 5, 2022
6 p.m. UTC, March 5, 2022
Russia
9 p.m. (MSK), March 5, 2022
6 p.m. UTC, March 5, 2022
Saudi Arabia
9 p.m. (AST), March 5, 2022
6 p.m. UTC, March 5, 2022
Singapore
2 a.m. (SGT), March 6, 2022
6 p.m. UTC, March 5, 2022
South Africa
8 p.m. (SAST), March 5, 2022
6 p.m. UTC, March 5, 2022
South Korea
3 a.m. (KST), March 6, 2022
6 p.m. UTC, March 5, 2022
United Arab Emirates
10 p.m. (GST), March 5, 2022
6 p.m. UTC, March 5, 2022
United Kingdom
7 p.m. (GMT), March 5, 2022
6 p.m. UTC, March 5, 2022
United States
10am, (PST), March 5, 2022
Midnight (CST), March 5, 2022
1 p.m. (EST), March 5, 2022
6 p.m. UTC, March 5, 2022
What is Contest Mode in The Vow of the Disciple carry?
Additional information on what Contest Mode will look like in Vow of the Disciple was promised by Bungie back in January, and we're still waiting for more information. Prior to the introduction of Contest Mode, all players' Power Levels inside a raid were restricted to a stringent limit for the first 24 hours, even if they were already at or near that limit. This made the raid that little bit more difficult. During past seasons, this limit was applied at a power level that was around 20-40 Power Levels below the optimal Power Level for each encounter.
In addition to this, The Vault of Glass originally contained an extra day one modifier that enabled the Tempo's Edge Triumph to be unlocked. After completing the Vault of Glass on Day One, Guardians were given the chance to retry the mission with a series of challenges triggered to help them go further. Aside from completing this mode on top of the already taxing bombardment of the Contest Mode, Vault of Glass, players required to accomplish this mode to be considered for the World's First completion.
What Power Level should I be to complete The Vow of the Disciple boost?
With the release of any Destiny 2 expansion, the most exciting addition for most players is a new Raid. That being said, The Witch Queen has finally been released and everyone is preparing for the day 1 Vow of the Disciple Raid race. It seems that Guardians will be venturing into the ancient pyramid ship in Savathuns Throne World, so players will want to bring everything they've got. In this guide, we will be going over everything you need to do to prepare for the new Vow of the Disciple Raid.
Increase your power
Due to the release of The Witch Queen power level caps have increased significantly. The first thing you should be doing to prepare for the new Raid is increasing your power so you can actually play in the raid. Here are the new power caps with The Witch Queen:
Floor: 1,350 (up from 1,100)
Soft Cap: 1,500 (up from 1,270)
Powerful Cap: 1,550 (up from 1,320)
Hard Cap: 1,560 (up from 1,330)
Bungie seems to be making the day 1 Vow of the Disciple Raid more accessible to players than ever before, making the contest power cap at 1,530. This means that once you reach power level 1530 without the artifact on your character, you are ready for the day 1 experience.
Gather your armory the Vow of the Disciple carries
One of the most exciting things about a new Raid experience is the aspect of mystery. While it's great to venture into the unknown, it also means that players will have no idea what weapons and exotics will be the best choice for any given encounter of the Raid. Bringing classic meta weapons such as Sleeper Simulant and Gjallarhorn is obvious, but be sure to bring a variety of legendary weapons with the new artifact champion mods.
Armor perks are also very important to bring along. If you plan on participating in the day 1 experience of the Vow of the Disciple Raid, having armor perks such as Protective Light is practically a must. Also, be sure to have plenty of ammo finder and scavenger mods to hold onto as much ammo for DPS as possible.
Practice up the Vow of the Disciple account carries
The best way to prepare for a Raid experience is of course to practice in other Raids. If you have a team for the day 1 experience, it's a good idea to do multiple different Raid activities with them to build team synergy and strategy. Use this time to develop different DPS methods and give a variety of different weapons a try. That being said, we still know nothing about the Vow of the Disciple Raid mechanics, so be ready for anything.
---
Gates of Ethernity is a brand new Augmented Reality monster combat and collection title being produced by Ethernity Games. This project takes large inspiration from Pokémon Go as they are within the same overall genre. However, GoE is looking to separate itself with a high fantasy style and by bringing "Hollywood's native level of cinematography and visual production" to the table.
Gates of Ethernity's gameplay will involve players collecting, leveling up, and battling their "Ethernals." These creatures will each be an NFT asset, meaning GoE's Ethernals will each have a value, be hosted in players' own asset wallets, and be tradable on the marketplace. Ethernals are the main gameplay focus of GoE, each one having its own unique abilities and stats akin to normal RPG monsters.
The creators of GoE, Ethernity Games, is a joint venture between Red Rift, noOne Studio, and Dynamic Augmented Solutions. The lead game development studio, Red Rift, is known for their work done alongside Blizzard, as well as their game director's experience as a top manager at Wargames. The 3D animation and VFX will be provided by noOne. Containing many former members of Unit Image Studio, they have experience working on huge IPs like Call of Duty, God of War, League of Legends, and Tom Clancy's The Division.
Gates of Ethernity will be making use of Dynamic Augmented Solutions's technology to bring their hyper-realistic Ethernals to life. Together, Ethernity Games is establishing a game development studio with the capabilities to create AAA titles and experiences utilizing the Crypto and NFT wave. There is also another title being worked on by Ethernity Games, a digital collectible card game called Cards of Ethernity.
Cards of Ethernity will utilize blockchain technology, meaning each card can be traded or sold. This aspect likens it to physical card games with a card economy such as Magic the Gathering. Much like other digital card games, however, you will still be able to purchase card packs and cosmetics like card backs and adventurers; skins.
All of Ethernity Games' titles will use a single currency at the middle of their ecosystem. Known as $GOE Token, it will be the staple for all transactions, including payment and reward systems. Ethernity Games plans to use $GOE to fund their communities with things like esports prize pools, Staking, and Airdrops.
Another project being worked on by Ethernity Games is a CGI mini-series based on their Ethernity titles. The first Gates of Ethernity teaser released on Facebook reached 2 million views within two weeks. A five-episode CGI mini-series was established as a working project as a result. The production is slated for late summer of this year.
While, like with Contest Mode, Bungie has been mum about the needed Power Level for Vow of the Disciple, there have been certain tendencies in raid performance that could provide some insight.
Contest Mode set a restriction of 1300 for the Vault of Glass, which debuted during the Season of the Splicer and was available for purchase. This was 20 Power Levels below the Hard Cap for the season at the time of writing. The Deep Stone Crypt, which was introduced with the release of Beyond Light and the Season of the Hunt, follows a similar pattern. Deep Stone Crypt had a maximum power level of 1230, which was 30 points below the Hard Cap. Similarly, Shadowkeep and the debut of Garden of Salvation were both plagued by Contest Mode restrictions based on Power Level restrictions of 920 at a time when the Season of the Undying's Hard Cap was 960.
As a result, if we were to make an educated prediction based on these tendencies, we would predict that the Contest Mode for the Vow of the Disciple would have a Power Level between 1520 and 1540 points. Given that this has not yet been verified, it would be prudent to strive for the highest possible Power Level in order to benefit from the Legendary Campaign, which rewards anybody who completes it with a complete set of 1520 gear.
What kind of adversaries does the Vow of the Disciple carry with it?
Despite the fact that Bungie's cards are still tightly clutched to its breast, there is a plethora of information out in the wild regarding the basic opponent kinds that you can anticipate in The Witch Queen, information that stretches all the way to the Vow of the Disciple. The Scorn and the Hive seem to be the two most common adversary kinds encountered.
While we are aware of the existence of Hive Guardians, it is unclear how they will interact with the raiders. We do, however, know that these opponents' Ghosts must be killed in order to prevent any resurrected bodies from appearing. When you combine this with Ogres, Thrall, Hive Knights, and Acolytes, you'll find yourself quickly overwhelmed by arc shields, solar damage, void damage, and the possibility of encountering Barrier Knights or Unstoppable Ogres.
After that, there's the Scorn. We already know a great deal about the Scorn, owing to the innumerable times we have all participated in the Corrupted Lair Nightfall Strike together. You may be required to rush through hordes of Screebs, defend against Unstoppable Abominations, deal with Overload Chieftains, as well as deal with the regular riff-raff of Stalkers, Ravagers, Wraiths, Raiders, and Lurkers – not to mention those massive Scorn Walkers they appear to have amassed. -
How do I prepare for the Vow of the Disciple recovery?
An enormous amount of preparation goes into a raid, from selecting the appropriate weaponry to ensuring that your crew is capable of dealing with anything comes their way. To keep things simple, we've compiled a list of well-known and effective methods and recommendations to ensure that you're one step ahead of the game when it comes to preparation:
Level your weapons up
Bungie has previously said that manufactured weapons have an inherent level, which will enable you to gain more perks as you level up. It's possible that these enhanced advantages can prove beneficial to your squad in the long term, especially when it comes to eking out a little additional damage or dealing with certain opponents.
Create a flexible fireteam
The fact that the majority of classes serve more than one function is widely known; yet, it is beneficial to have specified roles with diverse builds that can respond to different situations in an appropriate manner. A basic method is to ensure that you have two members of each class in your fireteam, but the builds they plan to use are just as crucial as the numbers.
Titans should be able to explore inflicting massive quantities of damage or enveloping themselves in a protective bubble as a starting point. It should be possible for warlocks to reliably give healing assistance with their Well of Radiance while also releasing one of the largest Nova Bombs possible if you fall short of defeating the boss of certain engagements. Finally, Hunters should try to handle big groups of little foes with their tether, or do massive amounts of damage with their Golden Gun and Celestial Nighthawk when they have the opportunity.
The Vow Of The Disciple account recovery Prioritize the unlocking of anti-Champion mods in the Seasonal Artifact
In addition to the sorts of Champions described in our opponents section, Scorn and Hive might also provide all three categories of Champions. Consequently, make certain that your team has a proper mix of equipment that supports killing these Champions, as well as the modifications that go along with it. Previously, Bungie stated that Glaives will have the ability to stun Unstoppable Champions, that the Anti-Barrier Scout Rifle and Bow modifications would be returning, and that both SMGs and Auto Rifles will have the ability to deal with Overload Champions via seasonal mods.
Make sure to maximize the available Powerful and Pinnacle Engrams
Make sure to accomplish this during the two weekly resets that will occur between the debut of The Witch Queen and the release of the raid. This has previously been explained in detail in our Leveling Guide, but it is worth mentioning here as well.
What are the rewards for completing The Witch Queen's Raid The Vow Of The Disciple paid services?
- As if you hadn't noticed, a lack of confirmation has become something of a running theme when it comes to Vow of the Disciple, but you can reasonably expect a Day One completion emblem, a belt and emblem for those who are the first in the world to clear the raid, an exotic associated with the raid, an abundance of gear to find, and possibly even a ghost or sparrow.
There is also a series of redeemable goodies, like as T-shirts, raid jackets, and many other real-life incentives, that may be obtained by reaching certain milestones in the raid and purchasing them from the Bungie Store.
Since the release of The Witch Queen, the Destiny 2 community has combed the internet for any and all bits of information they can find, and they have discovered several weapons that are thought to be drops from the Vow of the Disciple's questline.
The first and most prominent is what many perceive to be the raid's exotic drop, Collective Obligation, which is considered to be the most valuable item in the game. Even though the Collective Obligation can now be seen on the Collections tab, you can still see its adornment, which is called In Finality. It is also thought that the weapons in the Enclave that are black and crimson in hue are the legendary drops from the Vow of the Disciple. These are the following: Insidious (Pulse Rifles), Submission (Submachine Gun), Deliverance (Fusion Rifle), Lubrae's Ruin (Glaive), Forbearance (Grenade Launcher), and Cataclysmic (Grenade Launchers) (Linear Fusion Rifle). These weapons, like the unusual, are not on display in the collections, and the same is true for them.
That's all there is to it. We gathered as much information as we could before The Witch Queen's invasion on our base. Keep checking back because the guide will continue to be updated as more information is given over the following days and weeks — two weeks, to be exact – so keep checking back.
Destiny 2: The Witch Queen is now available on consoles and PC, with the base game costing $40 and the Deluxe Edition costing $80. The Deluxe Edition includes Seasons 16 through 19, two dungeons, and other special goodies, while the base game costs $40.
VPN Safe
We use in-house VPN services to hide the IP of the booster to better protect our clients and our boosters.
Earn Discounts
We have a structured points system for our customers to earn discounts on future purchases. Get great deals with our rewards.
Competitive Pricing
We regulary review and adjust our prices to wither match or beat our competitiors. Why pay more with others? Choose us!
Contact Us
We have support 24 hours a day, 7 days a week. Our staff is located through out the world to cover every timezone.